Obedience Training Classes
---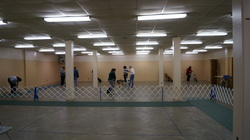 WE TEACH YOU TO TRAIN YOUR DOG!
All MADOC training sessions are nine weeks long. They
consist of:
. Orientation night
. Seven weeks of actual classroom training with the dogs
. Awards Obedience Training Facility
Obedience Training Facility
Click for Google Maps to Goodwyn Community Center
---
Important things to know about our classes:

Obedience classes are held at Goodwyn Community Center (Perry Hill Road near Atlanta Highway, next to Goodwyn Junior High school) downstairs. Obedience classes are on Thursday evenings at 6pm and 7pm, Advance registration is required. You can only be admitted to classes through the official enrollment process. A student must be at least 12 years old and if the handler is under 16 years old they must be accompanied by an adult.
Schedules for upcoming classes can be found on the
Home Page
Fees
The fee for the nine-week Beginner Class is $ 70.00 for non-members. The class fee is $35.00 for members. Checks for obedience classes should be made out to Montgomery Parks and Recreation.
Instructors
MADOC is able to provide quality dog obedience training only through its many valuable instructors and assistant instructors. These individuals volunteer their own time to promote responsible dog ownership, quality obedience training, and the improvement of the relationship between dogs and their owners. Each of our instructors is training their dogs towards obedience titles and attending obedience seminars to learn new techniques.
Class Enrollment Forms and General Rules:
Click below to download the Enrollment and Waiver forms - available in Word or PDF format.
Follow the instructions on the form to enroll in a MADOC class. Also download the General Rules document and the appropriate handout to review before class starts. If you are not sure about the class in which to enroll your dog and want to have the dog evaluated to see which class is right for you, please read the Procedures for Obedience Evaluations. Contact the Enrollment Chairperson and give them the required information so your dog can be evaluated.
E-mail for the Enrollment Chairperson
Procedure or Reevaluation Link
Obedience Enrollment FormDoc Link
Obedience Enrollment FormPDF Link
Puppy Class Description
Age Group:
3 to 5 months.
Goal:
Socialization, impulse control, problem solving and responsible dog ownership.
Exercises:
Sit, Down, Leave It, Coming when called and more. Class includes puppy play
General Rules and Puppy Handout PDF
Beginner Class Description
Age Group:
5 months and up.
Goal:
Building a Relationship with Your Dog, problem solving, socialization of the dog, responsible dog ownership.
Exercises:
Sit and down on command, the heel position, walking on a loose leash, stay, coming when called, focused play sessions, control of barking, biting, digging, and more.
General Rules and Beginner Handout PDF
Novice 1 Class Description
Prerequisite:
Graduation from Beginner Class or the equivalent.
Goal:
Refining exercises learned in Beginner Class and preparing the dog for Novice competition.
Exercises:
Heeling with automatic sits, stand for examination, recall with sits in front, figure eight, and group sits
and down stays.
General Rules and Novice I Handout PDF
Novice 2 Class Description
Prerequisite:
The NOVICE 2 Obedience Class shall be a natural progression from the Novice 1 class. Dogs entering this class must have successfully passed Novice 1 or have been evaluated according to MADOC's evaluation procedure.
Purpose of the Class:
This class is to help prepare students to go into the Obedience Competition Ring. It will in no way prepare a student for competition in one class session. This is an ongoing class which helps students learn the proper obedience exercises for competition. The class content can be varied, but should focus on improving the exercises that one would expect to encounter if they enter the obedience competition ring. The rules for AKC Obedience Trials should be covered in detail and the students should be prepared for what to expect from AKC Obedience judges in the competition ring.
General Rules
Open Class Description
Prerequisite:
"Companion Dog" (CD) Title or the desire to learn new exercises.
Goal:
To acquire a "Companion Dog Excellence" (CDX) Title.
Exercises:
Drop on recall, retrieving dumbbell on flat surface and over high jump, jumping the broad jump, and out of sight sit and down stays.
General Rules
Beginner Rally Class Description
Prerequisite:
Graduation from Beginner Obedience Class or equivalent.
A fun way to bridge the gap between the CGC (Canine Good Citizen certificate) and the Novice Obedience ring is through Rally. Rally combines the structure of agility (a numbered course with obstacles) with basic obedience commands (the obstacles). It allows both the handler and dog a fun way to gain confidence in the obedience ring.
General Rules
http://www.akc.org/dog-owners/training/canine-good-citizen/cgc-test-items-and-pledge/