About Us
---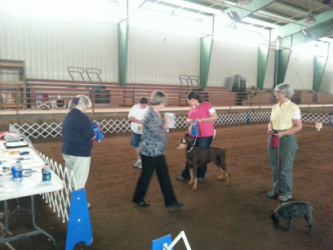 MADOC History, Goals, and Membership Information

History of MADOC
The Montgomery Alabama Dog Obedience Club was founded in 1971 by six area citizens. With a training book in one hand and a leash and collar in the other, these six members embarked upon an adventure into the wonderful world of dog obedience training. Classes were first held at the YMCA near Normandale. Due to the overwhelming interest in obedience training, a second class was formed using a facility on Maxwell AFB. Club members who were teaching classes at the Maxwell facility were always faced with the time-consuming tasks of moving heavy tables and chairs before and after their classes. Regardless of the barriers in their way, MADOC members continued to offer quality dog obedience training for area citizens. Now, with three decades of experience, MADOC offers classes at most levels of obedience and agility. The training methods used are continually updated to make training effective, positive, and fun. In 1995, MADOC began its first classes in agility.

MADOC's Goals and Objectives
. Promote responsible dog ownership
. Promote better understanding between dogs and their owners offer quality obedience and agility
training classes
. Maintain a highly qualified staff of instructors
. Hold AKC sanctioned matches and licensed trials

Membership Information
After graduating successfully from Beginner Class handlers can continue by enrolling with their dog in Novice One Class. After a handler has successfully taken a dog through Novice One Class, the handler is eligible to become a member of MADOC. If you have successfully completed Novice 1 Class or its equivalent, or you have obtained a leg toward a title and you are in good standing with the AKC, then you can apply for membership with MADOC. At the end of Novice One Class we give membership application forms to successful graduates. After receiving applications, the application is voted upon at the next general meeting of the club. Membership has many benefits. Besides joining in support of the club's mission, members receive our monthly newsletter, The Recall, participate in a variety of club activities, participate in discount group buying, and enjoy substantial discounts on the cost of classes.

---
---